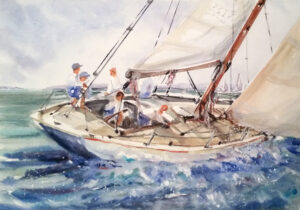 Coming from a wide & varied career background, which I began in the Banking, Finance & Insurance Industry, to that of General Manager & CEO..
From living in Far North Queensland, as well as small and large towns in Country & Coastal towns of both Qld & NSW, and accompany that with a love of travel, both here & overseas.. years of sailing, either as a deckhand or Skipper, on many racing yachts & charter boats…along with a love of photography and a camera always to hand…it all opens up to a large variety of subjects & experiences for inspirations for my paintings..
An Advanced Diploma in Graphic Design and Multimedia .. and for the last 16 years as a freelance & web designer, I finally decided to concentrate solely on developing my own artwork further. My initial aim was to learn how to adopt Watercolour into my Pen & Ink studies, without being told I was "just colouring in" to which, has now developed a love for the medium by itself .
I have had the opportunity to learn from the best Watercolourists in Australia..Tutors such as Robert Wade OAM and Malcolm Beattie, Jacky Pearson, Guy Troughton, Barry & Lucy McCann, Chan Dissanyake, Rob Candy, Ross Paterson, Hermann Pekel, Keiko Tanabe, and the list goes on….All of which greatly influence my work & style..
My "heroes" in watercolour are Robert Wade OAM, Jack McDonogh, Sydney Long & Hans Heysen…but none moreso than Beatrix Potter, as it was her imagination and illustrations that I loved from a child that when I saw her original works in Birnam in Scotland and the World of Beatrix Potter at Bowness on Windermere, I knew that was to be my new direction …..
In 2012, I became a Member of The Central Coast Watercolour Society, then in 2015 I joined the Society of Artists & the Hunter Arts Network, all based in my local area of Newcastle and in 2016 I was invited to become a member of The Newcastle Art Society. All of which hold regular exhibitions, sales opportunities & markets…
Keeping you uptodate with all my future exhibitions
…  a chance to come and see my paintings, and of course ..hava chat
The Next Hunter Arts Bazaar will be 23rd March at  Speers Point 2018..
Come and say G'day and look for my "specials"
Im also happy to
discuss Commissions for specific paintings …

Recent Exhibitions

Daphne Young Watercolour Prize 2017 – Awarded  Emerging Artist -The Two Escapees
Town Of Murals Art Prize 2017 – Awarded Highly Commended – Mr Percival
Cessnock Art Prize 2017
Singleton Art Prize 2017
Newcastle Art Prize 2017
Ocean Blue Gallery 2017
Inspired HVGS Maitland 2017
Easter Showcase 2017 Gosford
Springtime Exhibition The Entrance Gallery 2016
Singleton Art Prize 2016
Newcastle Art Prize 2016
Inspired Maitland 2016
Easter Showcase 2016
Gosford Art Gallery Foyer 2015
Newcastle Art Prize 2015
Inspired Maitland 2015
CCWS Celebration of Watercolour 2015
KAB Gallery Terrigal 2015
Easter Showcase Gosford 2014
Springtime Exhibition 2014
Daphne Young Memorial Watercolour  Art Prize Armidale 2014
A Member of…
Central Coast Watercolour Society
Society of Artists Newcastle
Hunter Art Network
Newcastle Art Society
Newcastle Plein Air Painters