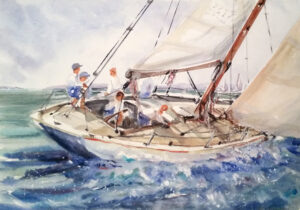 Coming from a wide & varied career, including General Manager & CEO ..leaving Corporate life, I went on to study Graphic Design and follow my heart …
From living in Far North Queensland, as well as Country & Coastal towns in NSW & Queensland, accompany that with a love of travel, years of sailing on many racing yachts & charter boats, horse riding & equestrian events …add to that, a love of photography, all of which open up to a large variety of subjects & experiences, which I use as inspirations for my paintings & drawings..
I went on to achieve an Advanced Diploma in Graphic Design and Multimedia .. and after many years as a Freelance, Graphic & Web designer, I finally decided to concentrate solely on developing my own artwork further. My initial aim was to learn how to adopt Watercolour into my Pen & Ink studies, without being told I was "just colouring in" to which, has now developed a love for the medium by itself .
I have attended many workshops in Australia & Overseas, from world renowned Watercolourists.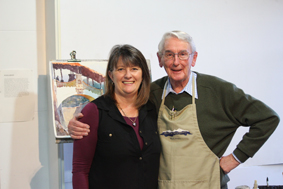 Tutors such as Robert Wade OAM , Alvaro Castagnet, Ross Paterson, Malcolm Beattie, Jacky Pearson, Guy Troughton, Barry & Lucy McCann, Chan Dissanyake, Rob Candy, John Haycraft and from the United States, Keiko Tanabe, and the list goes on…. All of which, greatly influence my work & style..
My "heroes" in watercolour are Robert Wade OAM, Jack McDonogh, Sydney Long & Hans Heysen…but none moreso than Beatrix Potter, as it was her imagination and illustrations that I loved from my childhood, that when I saw her original works in Birnam in Scotland and the World of Beatrix Potter at Bowness on Windermere, I knew that was to be my new direction ….. Watercolours !!
In 2012, I became a Member of The Central Coast Watercolour Society, and held numerous positions such as Beginners & Workshop Coordinator, Website & Social Media Office & Assistant Treasurer , unfortunately having to retire all positions in 2017.. due to ongoing ill health..
In 2015 , I joined the Hunter Arts Network, & Society Of Artists, Newcastle, then in 2016 I was invited to become a member of The Newcastle & Lake Macquarie Art Society.
SO in late 2016, I decided to make the change from HEKTIK Designs…(Websites & Photography) …… to HELKINART – Watercolour Artist 😀
A move to Lorn in 2020, I then joined the Maitland Regional Society of Artists … to now May 2023, returning back to the Lake and looking forward to the opening of my new Studio in Belmont…
My Mum was always a great supporter of my Art, even when I was a young child and she would always attend many of the Exhibition and Art prizes with me.. She would call herself my Sales & Marketing Agent.. Sadly, she passed away just before the TOMAS Award night in 2020, where I won the Major Watercolour award. I only wish I could've shared this achievement with her, but hopefully she was there with me  .. as I am sure she would not have missed it 😉 …
RECENT AWARDS
FINALIST 2023 – Newcastle MARITIME ART PRIZE   Mission to Seafarers
Commended – Misty Morn – NLMAS 2023 Belmont Golf & Bowls Exhibition
WINNER : 2020 Town Of Murals Art Prize  – Watercolour section – Yee Haw
Highly Commended – Winters Day (Miniature)
Highly Commended – Mr Percival
2nd Prize Drawing – The Waiting – 2020 Morisset Agricultural Show
2nd Prize Pen & Wash  – Homestead – 2020 Morisset Agricultural Show
2nd Prize Drawing – Hitched – 2019
Emerging Artist -The Two Escapees – Daphne Young Watercolour Prize
EXHIBITIONS I have entered in over the years and sold … and a chance to see my work and buy at the following
Newcastle Maritime Art Prize
Daphne Young Memorial Watercolour  Art Prize Armidale
Town of Murals Art Prize
Coal Point P&C Art Show
Morisset Ag Show & Newcastle Ag Show
Drummoyne Art Prize
Currabubula Art Prize
Scone Art Prize
Cessnock Art Prize
Singleton Art Prize
Newcastle Art Prize
Kernart Prize
Fairfield Art Prize
Inspired HVGS Maitland
Hunters Hill
Laguna Art Show
Galleries I have been & currently displayed in
The Hunter Artisan Gallery
Gosford Art Gallery … KAB Gallery Terrigal ..The Entrance Gallery
Ocean Blue Gallery

A Current Member of…
Hunter Arts Network
Maitland Region Society of Artists
Society of Artists Newcastle
Newcastle & Lake Macquarie Art Society
Newcastle Plein Air Painters
Newcastle Urban Sketchers
Central Coast Watercolour Society